RBT 3D Digital System D5



A new RBT best class digital stereo camera is available from now on. The basis is the Nikon COOLPIX P6000. The D5 is a future development of the favourite D4 and D4II. The camera offers an absolute synchronicity – in all operational modes. Even flash pictures are possible with external flash unit without problems.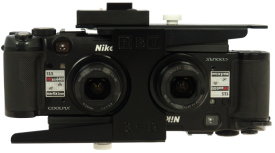 The RBT 3-D D5 is a premium top class digital view-finder camera, with full manual setting options. The camera is exactly synchronized with additional electronic equipment via a detachable cable connection. The two cameras (Nikon COOLPIX P6000), are mounted on a lightweight stable carrier.

The perfect synchronization accuracy (+ / - 1ms) is guaranteed in almost all operating modes.

Even the external flash still works at 1 / 125, and can be adjusted, if necessary, at 1 / 500. by yourself.

If the carrier and connection assembly is detached from the camera, the cameras can be used as a fully functional single camera. Via a sliding switch next to the flash connector, the cameras can be switched from stereo operation [S] to mono operation.

The synchronization carrier has the following equipment features

Stereo basis continuously adjustable from 65mm to 170mm
Precisely CNC - milled removing mechanics
Holder in lightweight construction
Stereo basis scale on holder - dimensions on basis 65mm h = 120mm b = 217mm d = 42mm
Tripod screw on holder
Eyelets for wrist strap on holder
Flash holder with synchronization for standard flash units
The following features characterize the D5 complete system:

Synchronization of switch on and off
Synchronization of focusing
Synchronization of the camera shutter release
Synchronization extending and retracting zoom
Total weight approx. 770 g
Integrated micro-connecting plug on each camera
Both cameras can be used separately, when they are detached from holder and connection assembly
Synchronization of external flash connector for standard flash units
Main Features Nikon Coolpix P6000

13.5 effective megapixels for high-resolution images
4x Zoom-NIKKOR lens with 28mm wide-angle capability
2.7-inch high-resolution wide-viewing angle LCD monitor with anti- reflection coating
External flash and wide-angle converter lens options
RAW file format support*1
Optical lens shift VR image stabilization
Wired LAN connectivity, my Picturetown
Built-in GPS (Global Positioning System) unit records the location (latitude and longitude) of shots as "geotags"
High-Sensitivity up to ISO 6400*2
COOLPIX Picture Control for improved finishing flexibility
optical viewfinder
High-quality materials and finish with magnesium alloy front panel
Manual focus
Wireless Remote Control ML-L3 for wireless shutter release Distortion Control
Exposure Modes (P/S/A/M)
Three Unique Nikon Image Innovations for high performance - Face-priority AF, In-Camera Red-Eye Fix and D-Lighting
Nikon COOLPIX P5100 Specifications

Effective pixels:
13.5 million

Image sensor:
1/1.7-in. CCD; total pixels: approx. 13.93 million

Lens:
4x Zoom-NIKKOR; 6-24mm (35mm [135] format picture angle: 28-112mm); f/2.7-5.9; 9 elements in 7 groups; Digital zoom: up to 4x (35mm [135] format picture angle: 448mm)

Focus range (from lens):
50cm (1 ft.) to infinity (∞); Macro close-up mode: 2cm (0.8 in.) to infinity (∞)

Monitor:
2.7-in., 230,000-dot, wide viewing angle TFT LCD with anti-reflection coating

Storage media:
Internal memory (approx. 48 MB), SD memorcards

Image size (pixels):
4224 x 3168 (13M), 3264 x 2448 (8M), 2592 x 1944 (5M), 2048 x 1536 (3M), 1600 x 1200 (2M), 1280 x 960 (1M), 1024×768 (PC), 640 x 480 (TV), 4224 x 2816 (3:2), 4224 x 2376 (16:9), 3168 x 3168 (1:1)

Vibration Reduction (VR):
Optical lense shift VR

ISO sensitivity:
ISO 64, 100, 200, 400, 800, 1600, 2000, 3200*2, 6400*2, Auto (auto gain ISO 64-800), High ISO Sensitivity Auto (ISO 64-1600), Fixed Range Auto (ISO 64-100, 200, 400)

Interface:
High speed USB

Power sources:
Rechargeable Li-ion Battery EN-EL5 (supplied), AC Adapter EH-62A (optional)

Battery life:
Approx. 260 shots with EN-EL5 battery (based on CIPA standard)

Supplied accessories:
USB Cable UC-E6, Audio Video Cable EG-CP14, Rechargeable Li-ion Battery EN-EL5, Battery Charger MH-61, Strap AN-CP16, Software Suite CD-ROM

Optional accessories:
Battery Charger MH-61, Wide-angle Converter WC-E76, Adapter Ring UR-E21, Speedlight SB-400, SB-600, SB-900
For a absolute perfect synchron relase of both cameras, you have to press the relase botton the halve way, the focus must be ready of both cameras (green LED next to the viewfinder is on). Than press the relase button the full way. In this case ist the synchronising between +/- 1ms.
If the distortions conrol is working, the synchronising of +/- 1ms is not warranted.