RBT 3-D SLR Camera X4

The starter set: For new-comers to the stereo photography this mechanical SLR camera set is the optimal solution. It's offered as starter set.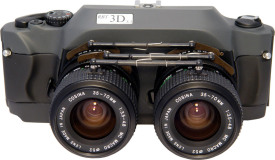 The camera is equipped with a follow up exposure meter. The lens spacing is 65 or 75 mm. In addition the camera is equipped with a zoom lens 3.5-4.5 / 35-70 mm and as well with the appropriate linkage.

The intelligent manufacturing technology and synchro mechanism (with patent application) for the shutters gives us the opportunity to offer the well known RBT-quality for an attractive price.
The existing camera functions are really sufficient to take excellent stereo photographs.



As an option three complete sets are available:

A: lens spacing 65 mm, matched format 24x33 mm, a 36 film will result in 20 picture pairs

B: lens spacing 75 mm, full format 24x36 mm, a 36 film will result in 18 picture pairs

C: lens spacing 65 mm, full format 24x36 mm, a 36 film will result in 12 picture pairs


All varinats are equipped with the following features:

Manual Exposure setting
Status of exposure indicated in the view finder by means of a LED
Long exposure time
Interchangeable lenses
Camera protection bag Airbag X manufactured of neat's leather (included in the price )
According to the low price, equipped with all the features and as well the compact and light construction the RBT 3D X4 is very much suitable for beginners of the 3D photography. The complete offer allows a favorable price for a camera equipped with all required features for the 3D photography.